Top message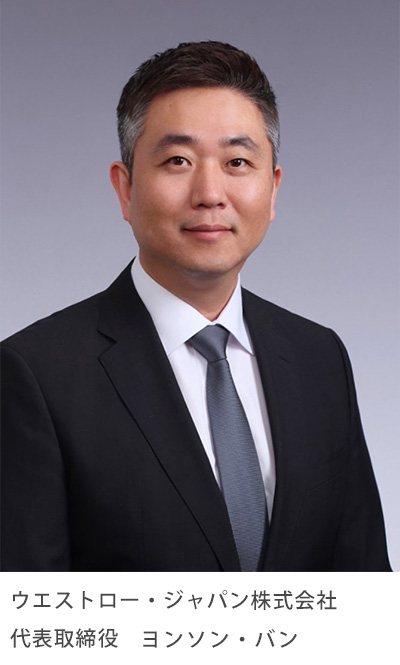 Message from Young Sun Bang, President
Welcome to Westlaw Japan. Westlaw Japan enjoys a rich history of delivering broad and abundant range of legal information with cutting edge technology solutions, and as the leading provider of legal information services in Japan, we have been committed to act as the strategic partner serving the academic, public and private sectors, and all valuable individuals in the legal business industry.
Established in March 2006, Westlaw Japan is a joint venture by Thomson Reuters and SHINNIPPON-HOKI PUBLISHING CO.,LTD. It has been approximately 12 years since Westlaw Japan entered the Japanese market, and since then, the company has been promoting the development of the comprehensive Japanese online legal information service "Westlaw Japan," while combining the proprietary database technology of Thomson Reuters and legislation and case contents of SHINNIPPON-HOKI PUBLISHING CO.,LTD., in order to provide a legal information service equipped with unprecedented and innovative functionalities. Since the service was launched in April 2007, it has been gaining market share at the fastest pace among the major legal information service providers in the Japanese market.
As the new President and Representative Director of Westlaw Japan, I feel very privileged to be writing this message as we look ahead to the exciting new chapter of our business and new opportunities we have in the legal information technology industry in Japan in the new era. Having been legally trained in both Korea and United States, and after spending the past decade in the legal services and legal technology industry in New York and Seoul, I was able to witness and explore the legal practice and services market where I was very fortunate to gain strong expertise on the business of legal information and technology, and to also lead corporate reform and business expansion in such industry.
With the new leadership, we aim to get closer to the market, our customers, partners and stakeholders. As technology evolves and the value of efficiency is being prioritized, all the industries are experiencing ongoing and extraordinarily rapid changes in its business environment. And this is causing increased external pressures to bridge the gap between the profession and the use of technology. This transformation is already prevalent in many professional services industries, and has also impacted legal industry, from legal education to legal services.
With our legal business industry expertise, we understand that it is very important to further strengthen our capabilities in developing ground-breaking innovative services by identifying the needs of the industry, and to strive to further expand our businesses in the Japanese market by also leading the market expertise and increasing the awareness, while deepening collaboration with our parent companies and partners. As an information services provider, which has successfully combined reliable contents, leading-edge technologies and in-depth specialized knowledge, Westlaw Japan will make utmost efforts to establish itself as an industry leader and serve as the best and strongest partner of legal professionals operating not only in Japan but around the world by providing them with indispensable tools for their operations.
With our global industry leading technology, most reliable and abundant contents, and our continuous focus and devotion to our customers' needs and experiences, Westlaw Japan will be the strategic partner committed to your success.
We want to thank you very much for your trust, support and partnership. And we very much look forward to serving you.
Sincerely,




Young Sun Bang
President & Representative Director, Westlaw Japan K.K.